Date of Walk: 13 January 2012
Approx Distance of Walk: 3 km (2miles)
Parking/Transport: Car Park in Cookham near Stanley Spencer Gallery (Grid Ref SU 897853)
Starting Point: Cookham Village
Finishing Point: Near Boulters Lock
In my previous post about the Thames Path, I gave the impression that we had now filled in all the bits that we had not walked between Henley and Windsor. This was not strictly true, as there is a small stretch at
Cookham
that we'd never walked. The reason is probably that the path doesn't actually follow the Thames at this point, but deviates around some private land and through the village of Cookham. Cookham is well known as being the home of the artist Sir Stanley Spencer. There is a gallery there displaying many of his works, amongst which Cookham features prominantly. The gallery is celebrating it's 50th anniversary this year.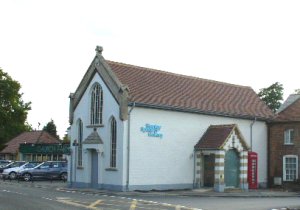 We started this short walk on a cold crisp day in the centre of the village and walked past the gallery and along the road until the Thames Path waymarker pointed us down a side road.
The road quickly left the residential houses and led onto open countryside.
Nice day for fence repairs on the right. The road needs some repairs too - like many of the roads around here!
After a quarter of a mile or so, a path lead us off between the road and some bordering fields.
As we approached the river, we had a good view of the Octagon Chapel at Cliveden through the trees.
This unusual building has some beautiful mosaics in the roof inside and is the burial place of a number of the members of the Astor family.
Cliveden
is perched high up a cliff on the opposite bank from where we were walking.
The river was very calm that day, and the frost lingered in places where the winter sun had not reached it.
The ducks seemed to be enjoying the sunshine.
Canada geese seemed to be restlessly and noisily flitting between the river and the adjacent field, possibly disturbed by the many walkers who, like us, were out enjoying the winter sun.
Although we had previously walked this stretch of the Thames Path, we carried on towards Maidenhead for a while until our stomachs told us it was lunch time, and we turned and retraced our steps. It was a short but pleasant winter walk.